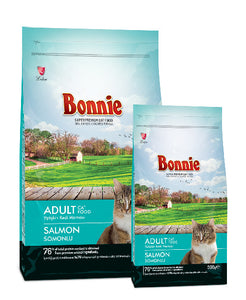 Bonnie Adult Cat Salmon
Regular price
Rs 1,480.00
Rs 0.00
Unit price
per
Processed Salmon Protein, Processed Animal Protein, Wheat, Corn, Animal Fat, Maize Gluten, Dried Sugar Beet, Fish Flavor, Fish Oil, Salt, Flaxseed, Brewer's Yeast, Taurine, Yucca, Mannan Oligosaccharides, Beta Glucan, Preservatives - Antioxidants.
Calcium, Phosphorus, Sodium, Iodine, Zinc, Copper, Iron, Selenium
Vitamin A, Vitamin D, Vitamin, Vitamin C, Vitamin B1 - B2 - B3 (Niacin) - B6 - B12 - B7 (Biotin) - B9 (Folic Acid), Vitamin K, Choline, Calcium Pantothenate.
NUTRITIONAL COMPONENTS

NUTRIENT ADDITIONALS

Raw Protein

31%

Vitamin A (E672)

15000 IU/kg

Raw oil

12%

Vitamin D3(E671)

 1000 IU/kg

Ash

8%

Vitamin E (3A700)

150mg/kg

Raw Cellulose ( Fiber )

3%

Vitamin C (Stay C)

120mg/kg

Taurine

1000mg/kg
FEEDING RECOMMENDATIONS AND WARNINGS
● See the table for the recommended daily intake (grams/day) based on your cat's weight (kg). ● The amount of food to be given daily may vary depending on the outdoor temperature, your cat's living conditions (indoor/outdoor), character and activity. ● In order for your cat to be at the ideal weight, it is important to weigh the amount of food. ● Evaluation of your cat's appetite, appearance and stool will help in the correct adjustment of the amount of food to be given. ● Switching from one formula to another should be done gradually by giving small amounts of both formulas over a week after mixing. ● Storage life is 18 months from the date of manufacture. ● Production date is written on the packaging. ●Keep the package closed in a dry and cool environment. ●Always keep clean drinking water in your cat's water bowl next to dry food. ● It should not be used as human food.
---
Share this Product
---