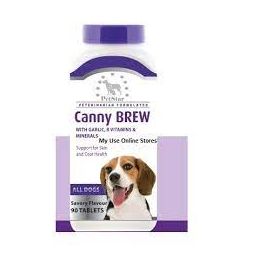 Canny Brew (60 tablets)
Regular price
Rs 820.00
Rs 0.00
Unit price
per
Canny BREW Garlic, B Vitamins & Minerals support for skin and coat health Canny BREW tablets have been specially formulated to maintain your pet's healthy skin & coat. With its unique balance of brewer's yeast, vitamins and minerals which have been shown to maintain proper skin and tissue function.
The bio-available garlic in this formula is rich in antioxidants and has shown
amazing immune support in animals by using garlic's natural properties, which Canny BREW can be used to prevent biting insects like fleas & ticks from attacking.
As your pet naturally metabolizes each tablet, the bio available sources of
garlic and brewer's yeast combine to create an odor that's imperceptible to you and your pet, but unpleasant to fleas, ticks, and other biting insects.
Daily Recommendations:
Directly feed to the animals.- 1 tablet daily per 10kg of body weight.
---
Share this Product
---