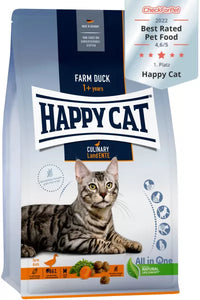 Happy Cat Culinary Adult Farm Duck 300g
Regular price
Rs 1,800.00
Rs 0.00
Unit price
per
Grain-free adult dry cat food with succulent duck
Some cats react to cereals in their diet with allergies or intolerances. Your house cat can enjoy grain-free dry cat food like our highly digestible Culinary Adult Land-Ente without a care. Our delectable combination of high-quality animal protein from high welfare farms and regionally-sourced ingredients is based on our Natural Life Concept®. The composition of Culinary Adult Land-Ente provides everything your cat needs for a natural and species-appropriate diet. Our tasty grain-free recipe with tender duck and delicate carrots is highly digestible and promotes your feline friend's general well-being.
All the products from our Culinary range are based on the Happy Cat All in One Concept. This formula of active ingredients specially developed by nutritional experts covers your cat's five most important needs – totally naturally. This dry food is ideal for your house cat if you want to offer her grain-free meals.
What are the benefits of Culinary Adult Land-Ente?
Grain-free
Highly digestible
Promotes strong muscles
Suitable even for sensitive cats
Ideal weight
Recommended feeding (g/day),
indoor cat
Recommended feeding (g/day),
outdoor cat
2 kg
30 g
35 g
3 kg
40 g
45 g
4 kg
50 g
55 g
5 kg
60 g
65 g
6 kg
65 g
70 g
7 kg
75 g
80 g
8 kg
80 g
90 g
Duck protein* (20%), potato flakes, dehydrated potato, poultry protein**, animal fat (incl. poultry), meat meal, sunflower oil (2.4%), lignocellulose, hydrolysed fish*, beet pulp* (desugared), rapeseed oil (0.6%), yeast*, apple pomace* (0.4%), carrot (0.25%), seaweed*, linseed (0.2%), chicory powder (0.15% = 0.1% inulin), pea flakes (0.13%), beetroot powder (0.13%), mussel meat* (0.05%), yeast* (extract, 0.02% = 0.0032% MOS);

*) dried
**) dried, part hydrolysed
Crude protein 33.0%, crude fat 15.0%, crude fibre 3.0%, crude ash 7.5%, calcium 1.3%, phosphorous 1.0%, sodium 0.5%, potassium 0.7%, magnesium 0.1%, Omega-6 fatty acids 3.0%, Omega-3 fatty acids 0.3%
Vitamins/kg:
Vitamin A (3a672a) 17000 I.E., Vitamin D3 (3a671) 1000 I.E., Vitamin E (all-rac-alpha- tocopheryl acetate 3a700) 100 mg, Vitamin B1 (Thiamine mononitrate 3a821) 4 mg, Vitamin B2 (Riboflavin 3a825ii) 4 mg, Vitamin B6 (Pyridoxine hydrochloride 3a831) 4 mg, Biotin (3a880) 500 mcg, Calcium D Pantothenate (3a841) 10 mg, Niacin (3a314) 55 mg, Vitamin B12 75 mcg, Vitamin C (sodium calcium ascorbyl phosphate 3a312) 30 mg, Taurine (3a370) 1000 mg

Trace elements/kg:
Iron (iron(II)sulphate monohydrate 3b103) 95 mg, copper (copper(II) sulphate pentahydrate 3b405) 10 mg, zinc (zinc oxide 3b603) 80 mg, manganese ( manganese(II) oxide 3b502) 11 mg, iodine (calcium iodate, anhydrous 3b202) 1.15 mg, selenium (sodium selenite 3b801) 0.15 mg, antioxidant, tocopherol extracts from vegetable oils 1b306(i)

Amino acids/kg:
DL-Methionine (3c301) 4200 mg.
---
Share this Product
---