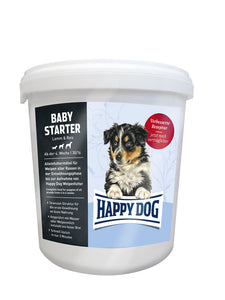 Happy Dog Baby Starter Lamb & Rice 1.5kg
Regular price
Rs 3,000.00
Rs 0.00
Unit price
per
For weaning puppies onto solid food

Perfectly balanced puppy food is the best basis for healthy development! Care must be taken to give your dog food that is well-tolerated, and this is especially important at the weaning stage when puppies are getting used to solid food. That's why Happy Dog Baby Starter Lamb & Rice contains well-tolerated lamb and easily digestible rice in a formulation which, with 30% protein and 16% fat, is perfectly tailored to the puppy's requirements. Based on the Happy Dog Natural Life Concept ®, the puppy is provided with everything its entire system needs, to start it happily on a long and healthy life.
The fine granules are ideal for the first taste of solid food, and for gentle, problem-free feeding at the puppy weaning stage, from the 21st day old. Mixed with water or puppy milk (Happy Dog Baby Milk Probiotic), it makes a fine puree, which your puppy will lap up enthusiastically. Happy Dog Baby Starter Lamb & Rice also dissolves very quickly, so the puree is ready to feed to the puppy after only 3 minutes.

From between the 5th and 6th week, there should be a gradual move to a suitable Happy Dog Baby product.
MADE IN GERMANY
GUARANTEE OF QUALITY
TOP-QUALITY RAW MATERIALS
Composition
Lamb protein* (20%), rice flour (18%), meat meal, maize flour, beef fat, maize, sunflower oil, beet pulp* (desugared), hydrolysed liver, cellulose*, rapeseed oil, apple pomace* (0.7%), potassium chloride, sodium chloride, yeast*, seaweed, linseed (0.16%), mussel meat (0.04%), yucca schidigera*, yeast (extract), milk thistle, artichoke, dandelion, ginger, birch leaves, stinging nettle, camomile, coriander, rosemary, sage, liquorice root, thyme, (herbs* total 0.15%); *) dried.
Feeding recommendations for exclusive feeding (4th - 6th week):
Weight of puppy
0.25kg - Baby Starter 20g;
0.5kg - Baby Starter 35g;
0.75kg - Baby Starter 45g;
1kg - Baby Starter 55g;
1.5kg - Baby Starter 75g;
2kg - Baby Starter 95g;
3kg - Baby Starter 125g;
4kg - Baby Starter 155g. 
Feeding recommendations for feeding with puppy milk (4th - 6th week):
Weight of puppy
0.25kg - Baby Starter 10g, Puppy milk 25g;
0.5kg - Baby Starter 20g, Puppy Milk 45g;
0.75kg - Baby Starter 25g, Puppy milk 60g;
1kg - Baby Starter 30g, Puppy Milk 75g;
1.5kg - Baby Starter 40g, Puppy Milk 90g;
2kg - Baby Starter 50g, Puppy Milk 120g;
3kg - Baby Starter 60g, Puppy Milk 150g;
4kg - Baby Starter 75g, Puppy Milk 180g (divided into 4-5 meals)
* split between 4 - 5 meals One measuring spoon holds roughly 10 g. Mix the granules with warm water (at roughly 60° C) or puppy milk and leave to soak briefly. The consistency of the food can be adjusted by changing the amount of water and the soaking time. Weigh puppies regularly and take the current ration from the table. The amounts shown above may be increased or reduced by up to 15 % to suit the specific needs of individual puppies. Make sure that fresh drinking water is available at all times. (Recommended daily amount when feeding with puppy milk: 1 part powder + 3 parts water)
---
Share this Product
---