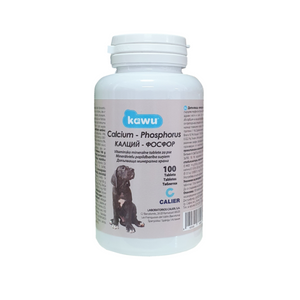 Kawu Calcium Tablets (100 tablets)
Regular price
Rs 4,900.00
Rs 0.00
Unit price
per
KAWU Calcium-Phosphorus contains there two minerals essential for the formation of bones and teeth. Also contains Vitamin D3, which is involved in the intestinal absorption of calcium and phosphorus. Its use is specially recommended for puppies and lactating females, that have a high calcium and phosphorus requirements.
Ingredients:
Dicalcium phosphate of mineral origin, beer yeast, and calcium carbonate
Guaranteed Analysis:
Gross protein: 10.5%Oils and Gross far: 1.35%Gross fiber: 0.81%Ashes:
58.21%Moisture: 9.25%Calcium: 17.6%Phosphorus: 5.9%Sodium, Lysine, Methionine,
Magnesium: 0%
Additives (100g):
Vitamins, provitamins, and substances defined chemically of similar
effect: Vitamin A (3a672a): 25,000 IU/100g
Indications:
Phosphorus and calcium supplement
Instructions for Use:
Oral administration, directly into animal's mouth or with food at the
dose of 1 tablet per 10kg of body weight.
---
Share this Product
---