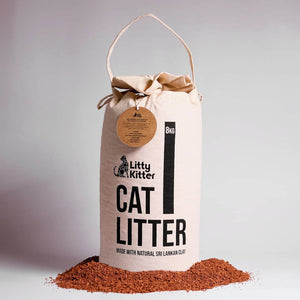 Litty Kitter Cat Litter 8kg (10L)
Regular price
Rs 1,800.00
Rs 0.00
Unit price
per
Litty Kitter is made by mixing 
Sri Lankan
red and ball clay. The litter h
as structural and mineral properties - endemic to Sri Lanka. Baked at 1200
֯
Celsius - creating pore formations and binding properties. Micron mix of 200, 400 and 600, enhancing efficiency. Creates an habitat for beneficial bacteria – colonization.
Non-crumbling & non-c

lumping properties.
Easy to scoop soiled litter.
Reusable
Safer than Bentonite clay for humans and cats

Sustainable cat litter

Bio-waste can be buried in the garden
Resuable - soiled litter can be removed and buried. Litter with urine can be washed, sun dried and reused.
Litty Kitter is known for its extremely reasonable prices. For those who prefer clumping, our personal recommendation is to mix Litty Kitter with a clumping litter. This way, there is a considerable saving, compared to simply using your general choice of litter.
---
Share this Product
---