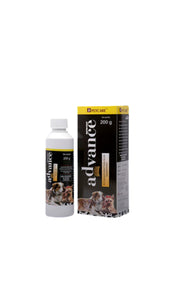 Nutricoat Advance
Regular price
Rs 2,600.00
Rs 0.00
Unit price
per
It is your duty as a dog owner to make sure that you look out for your dog. When your dog has healthy skin and a shiny, lustrous coat, it is a sure sign that he is in top form. Giving him supplements will only make him feel and look better, stronger and more active. 
Petcare Nutricoat Advance is a unique Concentrated Fatty Acids supplement that can be administered to dogs to act as treatment for allergies and other skin related disorders. It is a scientifically designed feed supplement which is a blend of the most active form of essential fatty acids including Omega 3, Omega 6, EPA & DHA.  It can also be used as an efficient medicine against Pyoderma, Mange, Yeast infection, Flea Bite Dermatitis, Atopy and most other types of fungal skin infections.
The medicine can be administered orally by feeding it directly to your pet or by mixing it with his food and water. The recommended dosage is 0.5ml for every kilogram of body weight to be given once daily. 
Petcare NutriCoat Advance contains all the crucial concentrated fatty acids to help your pet fight allergies and skin problems. Give your pet Nutricoat Advance and watch as his coat gets more shiny and lustrous with time.
FEATURES
Useful for maintaining healthy skin
Maintains coat
Balances metabolism of your pet
SPECIFICATIONS
Quantity

 

- 400 ml
Composition -  Omega 6 and omega 3
Dosage - Dogs  -  5 gms per day, Pregnant / Nursing bitches - 10 gms per day
Storage

 

- Store in cool dry place
---
Share this Product
---