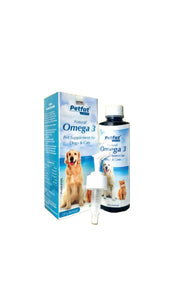 Petfat Liquid Natural Omega 3 200ml
Regular price
Rs 1,950.00
Rs 0.00
Unit price
per
Petfat liquid supplement ensures that your pet gets the optimum amount of essential fatty acids. Fatty acids in dry food are subject to oxidative degradation by the time it hits your store shelves. Use Petfat liquid for a Healthy, Shiny and a Furry coat.
Pet fat liquid is packed with EPA/ DHA fatty acids.
Sourced from low life span marine - Sardine.
Produced from wild fish and not farm grown fish. Farm fish are over fed with terrible diets, exposed to antibiotics and terrible living conditions.
Natural goodness in Omega 3 in natural triglyceride form for better absorption.
Superior advantage of human grade natural Omega 3 EPA and DHA.
The fish oil undergoes ultra refining, extraction and molecular distillation.
Unmatched nutritional benefits, superior product quality and global benchmark standards in nutritional value.
---
Share this Product
---