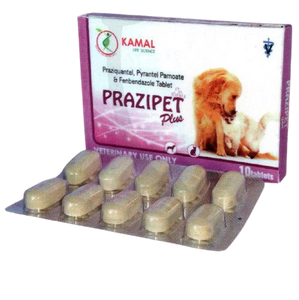 Prazipet Plus Worm Tablet (One Tablet)
Regular price
Rs 150.00
Rs 0.00
Unit price
per
Dewormer for cats and dogs. 1 tablet per 10kg weight.
Prazipet Plus Dog Dewormer a broad spectrum used to control all types of worms. Its active ingredients effective against tapeworms roundworms hookworms and whipworms
•Praziquantel (effective against tapeworms);
•Pyrantel pamoate (effective against roundworms and hookworms);
•Febantel (effective against nematode parasites including whipworms).
---
Share this Product
---