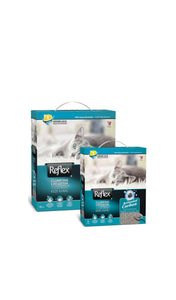 Reflex Clumping Cat Litter with Activated Carbon
Regular price
Rs 1,850.00
Rs 0.00
Unit price
per
Through "natural activated carbon" injected to the product formulation, blocks ammonia scent at cat's urine and faeces at maximum level. It further helps reduce stinking odour in the environment. The product has fast clumping feature due to the granule size.
- Powerful Odor Control
Biological organisms, when in contact with cat urine or feces, can invite many diseases for both our cats and us animal lovers.
Thanks to the "specially formulated particles" added to the product, Reflex Clinic Cat Litter helps to prevent biological organism-based diseases that may occur with the urine and feces of cats that are fed and sheltered in home and indoor environments.
- Extra Resistant Clumping
Thanks to the extra durable lumps formed thanks to its high liquid absorption ability, your cat's litter is easily cleaned and the remaining litter remains cleaner and is used for a long time.
- Low Dust & Tracking
High quality bentonite, which is instantly clumped with dusting, which is reduced to a minimum by undergoing special processes, does not stick to your cat's paws and thus does not disperse out of the litter box.
---
Share this Product
---