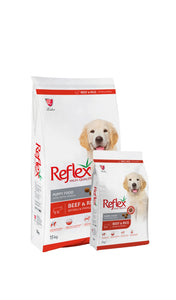 Reflex Puppy Beef & Rice
Regular price
Rs 6,950.00
Sale price
Rs 7,850.00
Unit price
per
A premium puppy food, complete and balanced with beef protein to meet the nutritional requirements of puppies for optimum growth.
Description : 
Reflex Beef Puppy, a specially formulated complete and balanced premium puppy food including beef protein to meet the nutritional requirements of puppies for optimum growth.
Nature miraculously provided omega 3 & 6 balance using flaxseed

Yucca plant provides ammonia and odour control, increases the absorption of nutrients. The immune system is strengthened, animals grow and performance improves.

Good intestinal health and performance are achieved with pathogen-binding mannan oligosaccharide, immunogenic beta-glucans, and CitriStim, an immune-boosting yeast source.

Brewer's yeast is used for healthy skin and shiny coat.

Whey is used to strengthen the immune system. Muscles, organs and nerve cells are supported.

Enriched with vitamins and minerals.
Ingredients: Processed Animal Protein, Wheat, Corn, Animal Fat, Wheat Middlings, Corn Gluten, Dried Sugar Beet, Liver Aroma, Salt, Flaxseed, Dried Brewer's Yeast.
Minerals: Calcium, Phosphorus, Sodium, Iodine, Zinc, Copper, Potassium Chloride, Iron, Selenium.
Vitamins: Vit. A, Vit. D, Vit. E, Vit. C, Vit. B1 – B2 – B3 (Niacin) – B6 – B12 – B7 (Biotin) – B9 (Folic Acid), Vit. K, Choline, Calcium Pantothene.
NUTRIENT COMPONENTS
Raw Protein * ………….… 28%
Crude Oil ………………… 16%
Crude Ash. ……………………. 2%
Crude Cellulose (Fiber) ……. 3.5%
FEEDING
INGREDIENTS Vitamin A (E672) …… 18,000 IU / kg
Vitamin D3 (E671) ………………………… 1,500 IU / kg
Vitamin E (3a700) ) …………………….. 150 mg / kg
Vitamin C (Stay C) ……………………… 200 mg / kg
Feed Suggestions
The amount of food to be given per day may vary depending on the outdoor temperature, the living conditions of your dog (inside / outside the house), its character and activity.

It is important to weigh the amount of food so that your dog can be an ideal weight.

It will be helpful to evaluate your dog's appetite, appearance and digestion when properly adjusting the amount of food to be given.
---
Share this Product
---