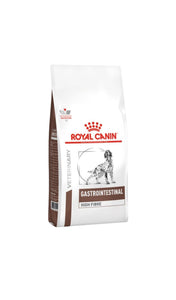 Royal Canin Gastrointestinal High Fiber 2kg
Regular price
Rs 9,950.00
Rs 0.00
Unit price
per
Digestive support
A highly digestible formula with balanced fibres, including prebiotics, to support a healthy digestion and transit.
High fibre
A fibre rich diet with an optimal blend of fibre to help regulate intestinal transit.
Adequate energy
Provides maintenance energy levels despite high fibre content.
ROYAL CANIN® Gastrointestinal high fibre is a precisely formulated diet, which offers increased, optimal fibre blends for dogs with fibre responsive diarrhoea and colitis. Complete feed for adult dogs to support a healthy digestion and transit. Recommended for casesof:  Fibre responsive colitis, diarrhoea (including stress diarrhoea), Chronic Large Bowel Diarrhoea
Composition: Vegetable fibres, rice, animal fats, dehydrated poultry protein, maize, wheat, maize gluten, dehydrated pork protein, wheat gluten, minerals, hydrolysed poultry liver, beet pulp, soya oil, fish oil, psyllium husks and seeds, yeasts products, hydrolysed animal proteins, fructooligosaccharides (0.5%), hydrolysed yeast (source of mannanoligosaccharides) (0.2%), marigold extract (source of lutein).

Nutritional additives: Vitamin A: 16500 IU, Vitamin D3: 1100 IU, Iron: 47 mg, Iodine: 4.7 mg, Copper: 14 mg, Manganese: 61 mg, Zinc: 143 mg, Selenium: 0.09 mg - Technological additives: Clinoptilolite of sedimentary origin: 10 g - Preservatives - Antioxidants.
| | Thin | | Normal | | Overweight | |
| --- | --- | --- | --- | --- | --- | --- |
| Dog's weight(kg) | grams | cup(s) | grams | cup(s) | grams | cup(s) |
| 2 | 65 | 6/8 | 57 | 5/8 | 50 | 5/8 |
| 4 | 110 | 1+2/8 | 97 | 1+1/8 | 83 | 7/8 |
| 6 | 149 | 1+5/8 | 131 | 1+4/8 | 113 | 1+2/8 |
| 8 | 185 | 2+1/8 | 163 | 1+7/8 | 140 | 1+5/8 |
| 10 | 218 | 2+4/8 | 192 | 2+1/8 | 166 | 1+7/8 |
| 15 | 296 | 3+3/8 | 260 | 2+7/8 | 225 | 2+4/8 |
| 20 | 367 | 4+1/8 | 323 | 3+5/8 | 279 | 3+1/8 |
| 25 | 434 | 4+7/8 | 382 | 4+2/8 | 330 | 3+6/8 |
| 30 | 498 | 5+5/8 | 438 | 4+7/8 | 378 | 4+2/8 |
| 35 | 559 | 6+2/8 | 492 | 5+4/8 | 425 | 4+6/8 |
| 40 | 618 | 7 | 544 | 6+1/8 | 469 | 5+2/8 |
| 45 | 675 | 7+5/8 | 594 | 6+6/8 | 513 | 5+6/8 |
| 50 | 730 | 8+2/8 | 643 | 7+2/8 | 555 | 6+2/8 |
| 55 | 784 | 8+7/8 | 690 | 7+6/8 | 596 | 6+6/8 |
| 60 | 837 | 9+3/8 | 737 | 8+2/8 | 636 | 7+1/8 |
| 70 | 940 | 10+5/8 | 827 | 9+3/8 | 714 | 8 |
| 80 | 1039 | 11+6/8 | 914 | 10+2/8 | 789 | 8+7/8 |
---
Share this Product
---