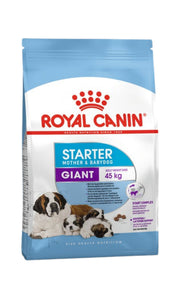 Royal Canin Giant Starter
Regular price
Rs 3,950.00
Rs 0.00
Unit price
per
Complete feed for dogs -For the giant breed bitch (> 45 kg) and her puppies: bitch at the end of gestation and during lactation - Weaning puppies up to 2 months old.
Description : If your dog is pregnant or has recently given birth, it's important that both she and her puppies have the right nutritional support to ensure continued health for the mother, and the best start possible for her puppies. ROYAL CANIN® Giant Starter Mother & Babydog contains all the nutrients your dog needs to support them during pregnancy and throughout the lactation period.
Composition: rice, dehydrated poultry protein, animal fats, vegetable protein isolate*, hydrolysed animal proteins, maize, beet pulp, minerals, soya oil, vegetable fibres, fish oil, fructo-oligo-saccharides, psyllium husks and seeds, hydrolysed yeast (source of manno-oligo-saccharides), fatty acid salt, yeast extracts (source of betaglucans), marigold extract (source of lutein).

Additives (per kg): Nutritional additives: Vitamin A: 19000 IU, Vitamin D3: 1200 IU, E1 (Iron): 42 mg, E2 (Iodine): 4.2 mg, E4 (Copper): 13 mg, E5 (Manganese): 55 mg, E6 (Zinc): 134 mg, E8 (Selenium): 0.07 mg - Technological additives: Clinoptilo-lite of sedimentary origin: 10 g - Preservatives - Antioxidants.

Analytical constituents: Protein: 30% - Fat content: 22% - Crude ash: 7.9% - Crude fibres: 1.9%.
| Age (weeks) | Adult weight | | | | | | | | | |
| --- | --- | --- | --- | --- | --- | --- | --- | --- | --- | --- |
| | 45 kg | - | 60 kg | - | 80 kg | - | 90 kg | - | 100 kg | - |
| 0-2 weeks | BabyDog Milk | | BabyDog Milk | | BabyDog Milk | | BabyDog Milk | | BabyDog Milk | |
| 2-3 weeks | 30 g | 3/8 cups | 30 g | 3/8 cups | 30 g | 3/8 cups | 50 g | 5/8 cups | 50 g | 5/8 cups |
| 3-4 weeks | 110 g | 1+2/8 cups | 130 g | 1+4/8 cups | 160 g | 1+7/8 cups | 200g | 2+3/8 cups | 200 g | 2+3/8 cups |
| 4-5 weeks | 170 g | 2 cups | 195 g | 2+2/8 cups | 220 g | 2+4/8 cups | 240 g | 2+6/8 cups | 240 g | 2+6/8 cups |
| 5-6 weeks | 190 g | 2+2/8 cups | 220 g | 2+4/8 cups | 250 g | 2+7/8 cups | 280 g | 3+2/8 cups | 280 g | 3+2/8 cups |
| 6-7 weeks | 245 g | 2+7/8 cups | 275 g | 3+1/8 cups | 300 g | 3+4/8 cups | 400 g | 4+5/8 cups | 400 g | 4+5/8 cups |
| 7-8 weeks | 320 g | 3+6/8 cups | 360 g | 4+1/8 cups | 400 g | 4+5/8 cups | 480 g | 5+4/8 cups | 480 g | 5+4/8 cups |
| Gestating bitch | - | - | - | - | - | - | - | - | - | - |
| Gestation (weeks) | Adult weight | | - | - | - | - | - | | - | - |
| - | 45 kg | - | 55 kg | - | 65 kg | - | 85 kg | - | 100 kg | - |
| 6 weeks | 503 g | 5+7/8 cups | 584 g | 6+6/8 cups | 662 g | 7+5/8 cups | 810 g | 9+3/8 cups | 915 g | 10+5/8 cups |
| 7 weeks | 548 g | 6+3/8 cups | 637 g | 7+3/8 cups | 722 g | 8+3/8 cups | 883 g | 10+2/8 cups | 998 g | 11+4/8 cups |
| 8 weeks | 594 g | 6+7/8 cups | 690 g | 8 cups | 783 g | 9+1/8 cups | 957 g | 11+1/8 cups | 1081 g | 12+4/8 cups |
| 9 weeks | 640 g | 7+3/8 cups | 744 g | 8+5/8 cups | 843 g | 9+6/8 cups | 1031 g | 11+7/8 cups | 1164 g | 13+4/8 cups |
| 1 cup = 240 ml = 86 g | - | - | - | - | - | - | - | - | - | - |
---
Share this Product
---