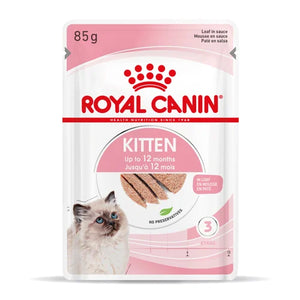 Royal Canin Kitten Loaf Pouch 85g
Regular price
Rs 705.00
Rs 0.00
Unit price
per
Immune system support

Supports the development of the kitten's healthy immune system with the inclusion of a complex of nutrients, including vitamins E and C.

Brain development

Enriched with an omega-3 fatty acid (DHA) to support the kitten's brain development and healthy vision.

Soft texture for baby teeth

Optimal texture & taste for growing kittens. 
COMPOSITION: Meat and animal derivatives, vegetable protein extracts, derivatives of vegetable origin, cereals, minerals, vegetables, oils and fats, yeasts.
ADDITIVES (per kg): Nutritional additives: Vitamin D3: 120 IU, Iron (3b103): 3 mg, Iodine (3b202): 0.42 mg, Copper (3b405, 3b406): 3.3 mg, Manganese (3b502, 3b503, 3b504): 0.8 mg, Zinc (3b603, 3b605, 3b606): 8 mg.
ANALYTICAL CONSTITUENTS: Protein: 12.0%, Fat content: 4.0%, Crude ash: 1.8%, Crude fibres: 0.8%, Moisture: 78.4%, Vitamin E: 110 mg/kg, Vitamin C: 45 mg/kg, Omega-3 fatty acids (DHA): 0.03%.
FEEDING INSTRUCTION: see table. Batch number, factory registration number and best before date: see information on packaging. To be stored in a cool, dry place.
| Kitten's age (months) | <1.5 | 1.5 | 2 | 3 | 4 | 5 | 6 | 7 | 8 | 9 | 10 | 11 | 12 |
| --- | --- | --- | --- | --- | --- | --- | --- | --- | --- | --- | --- | --- | --- |
| Kitten's weight (kg) | Use BABY CAT MOUSSE until 1.5 month | 0.6 - 0.9 | 0.8 - 1.2 | 1.4 - 2.1 | 1.8 - 2.75 | 2.1 - 3 | 2.4 - 3.9 | 2.4 - 3.9 | 2.7 - 4 | 2.9 - 5 | 2.9 - 5 | 2.9 - 5 | 2.9 - 5 |
| Rationing (pouch/day) | Use BABY CAT MOUSSE until 1.5 month | 2 | 2.5 | 3 | 3 | 3.5 | 3 | 3 | 3 | 3 | 2.5 | 2.5 | 2.5 |
| Kitten's age (months) | <1.5 | 1.5 | 2 | 3 | 4 | 5 | 6 | 7 | 8 | 9 | 10 | 11 | 12 |
| --- | --- | --- | --- | --- | --- | --- | --- | --- | --- | --- | --- | --- | --- |
| Kitten's weight (kg) | Use BABY CAT MOUSSE until 1.5 month | 0.6 - 0.9 | 0.8 - 1.2 | 1.4 - 2.1 | 1.8 - 2.75 | 2.1 - 3 | 2.4 - 3.9 | 2.4 - 3.9 | 2.7 - 4 | 2.9 - 5 | 2.9 - 5 | 2.9 - 5 | 2.9 - 5 |
| Rationing (grams/day) | Use BABY CAT MOUSSE until 1.5 month | 1 pouch + 18g | 1 pouch + 28g | 1 pouch + 40g | 1 pouch + 46g | 1 pouch + 48g | 1 pouch + 46g | 1 pouch + 44g | 1 pouch + 41g | 1 pouch + 37g | 1 pouch + 34g | 1 pouch + 32g | 1 pouch + 30g |
---
Share this Product
---